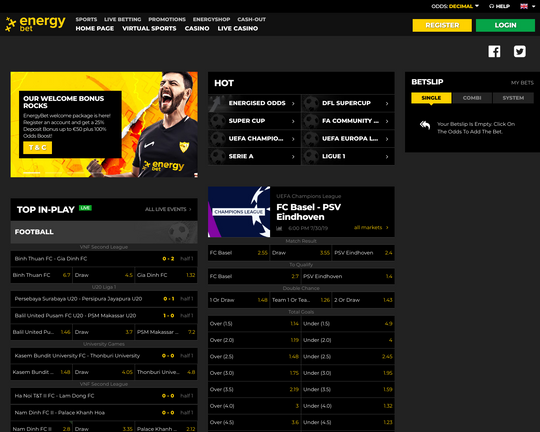 Online Sports Betting: An Introduction
What is Sports Betting?

If you love sports and want to take the excitement of the game to the next level, sports betting might be the thing for you. This type of gambling allows you to put your sports expertise to the test by wagering on matches and tournaments. The idea of betting on contests has old historical roots. In the past, people bet on cockfights or dog matches. Today these activities, given the inherent cruelty to animals, are frowned upon. Instead people bet on a variety of different professional competitions. In the United States, popular games include American football, basketball, baseball, and hockey. In Europe, and especially in the UK, the dominant betting game is association football.

Much of the US has strict gambling laws that are defined in each state. In many states sports betting is illegal altogether. This has understandably curbed the popularity of betting. In the UK, on the other hand, sports betting is an established cultural institution, and is permitted by law, though controlled. On both sides of the Atlantic, online betting has become increasingly popular. In the US, this is a way for people who live in places where betting is illegal to place their bets using services that run out of other locations. In the UK, online betting has simply made for a more convenient and enjoyable betting experience. This brief guide will cover the basics of sports betting, and offer a door into the world of online betting.


Important Sports Betting Terms
Book: This is the service which allows you to place your bets. The term 'book' refers to the historical books which were used to record wagers and odds. Today wagers are handled digitally, but the terminology remains. A sports betting service is therefore often called a "sportsbook". Those who manage these services are called bookmakers (sometimes wagebrokers). Illegal bookmakers are called "bookies".
Stake: The amount of money that is wagered by each side in a bet.
Spread: When two teams face off and one has a greater likelihood of winning, bookmakers usually incorporate a spread into the betting. This is a system for evening out the odds between teams by introducing a handicap for the better team. For example, if team A is much more likely to win than team B, the bookmaker can incorporate a spread of 2. This means that someone betting on team A will have to subtract 2 from the team A's final score at the end of the match before comparing to team B. Someone betting on team B will be able to add 2 points. Therefore, even if team A wins the actual match by one point, the bookmaker will pay out to someone who bet on team B.
Proposition betting: This is a bet which is not about the outcome of a match, but rather that some particular feature of a match will be true. For example, one can bet on the number of goals that a particular player might score, or how many penalties there will be. Fantasy sports leagues, though not the most traditional form of sports betting, consist of complex systems of proposition bets.
Half-Bets: This means betting on the score of only half of a match.
Odds: The odds represent the ratio between the stake and the payout of the bet should the better win. For example, 3 to 1 odds means that for every pound the better stakes the payout will be three pounds. If successful, the better will be left with 4 pounds. Odds are represented differently in different parts of the world. In the UK they are represented by a fraction. So 2 to 1 odds would be written "2/1". In Europe, Canada, and Australia a decimal system is used which represents the ratio of the total payout to the stake. If I bet 1 pound and win 2 pounds, the full payout is 3 pounds. So the ratio is 3.00. Each bookmaker is responsible for deciding the odds offered for any particular bet. Therefore sportsbooks will often have significantly different odds for the same match.
Great Online Sportsbooks

There are many quality online sportsbooks to choose from. They offer services at different levels of quality. Many sites offer attractive incentives to first time customers. Here are some examples of leading online sportsbooks that service UK:


Bet365: This is a reputable site which is used by players the world over. They offer up to £100 in Bet Credits for new customers.
Unibet: Unibet has been around since 1997 and is a recognised sportsbook that will cover all basic betting needs, though there is a lack of more nuanced betting opportunities. New customers receive up to a £40 refund in the event of a lost first bet.
BetVictor: A service running out of Gibraltar. They offer a series of new customer deals which can add up to as much as £340. Be aware, however, that many countries are restricted from their services.
10Bet: This is a very highly regarded online sportsbook. It offers a variety of different types of bets and a large selection of different sports. It is also widely available, being offered in 90 countries and 7 languages. New customers receive a bonus of 50% of their first deposit up to €100. In the UK it is up to £100.
Online Sports Betting Tips

Now that you know a bit more about sports betting, and have some options for where to place bets, here is some advice on making the most of your betting experience:


Budgeting: There is a reason why gambling is illegal in so many places. Once you get really engaged in betting, it can be hard to know where to draw the line. That is why having a hard and fast budget plan in place before you start betting is key. Know how much you plan to spend both on a short-term and long-term basis. This can help to ensure an enjoyable and safe betting.
Get Informed: A thorough knowledge of the betting system, and the many different types of bets, is very important to succeeding in online, or any, sports betting. This guide presents only very basic ideas. In order to become a serious, and potentially profitable, better, you need to master the system.
Pick a Strategy: Like any other enterprise, successful betting is based on a sound and strategic approach. You can't just start firing off bets at random and expect to come out on top. Sports betting strategy subdivides into two parts. The first part is based on an in-depth knowledge of the sport and its players. It's about seeing the upcoming star no one else noticed or predicting the comeback team that no one expected. The second part is a good grasp of the betting system. In general is better to focus on as few sports and as few games and types of betting within that sport as possible. The more you niche down into very specific betting, the better your decisions will be.
Compare Odds: As mentioned above, bookmakers decide on their odds independently. This means that all the online sportsbooks will have slightly different odds for the same game. Compare these carefully! Very often, a little extra research can yield a significant boost to potential earnings.
Do you Feel Like Placing a Bet?

Hopefully this brief introduction will have whet your appetite for a foray into the world of sports betting. Betting on matches is a way of taking the excitement of sports to new and greater levels. If it is done carefully, it can also be a way to earn some money in the long run. Whether you bet for the fun of the game or for the love of the strategy, be sure to bet with moderation and within your means. Now get out there and place your bets!