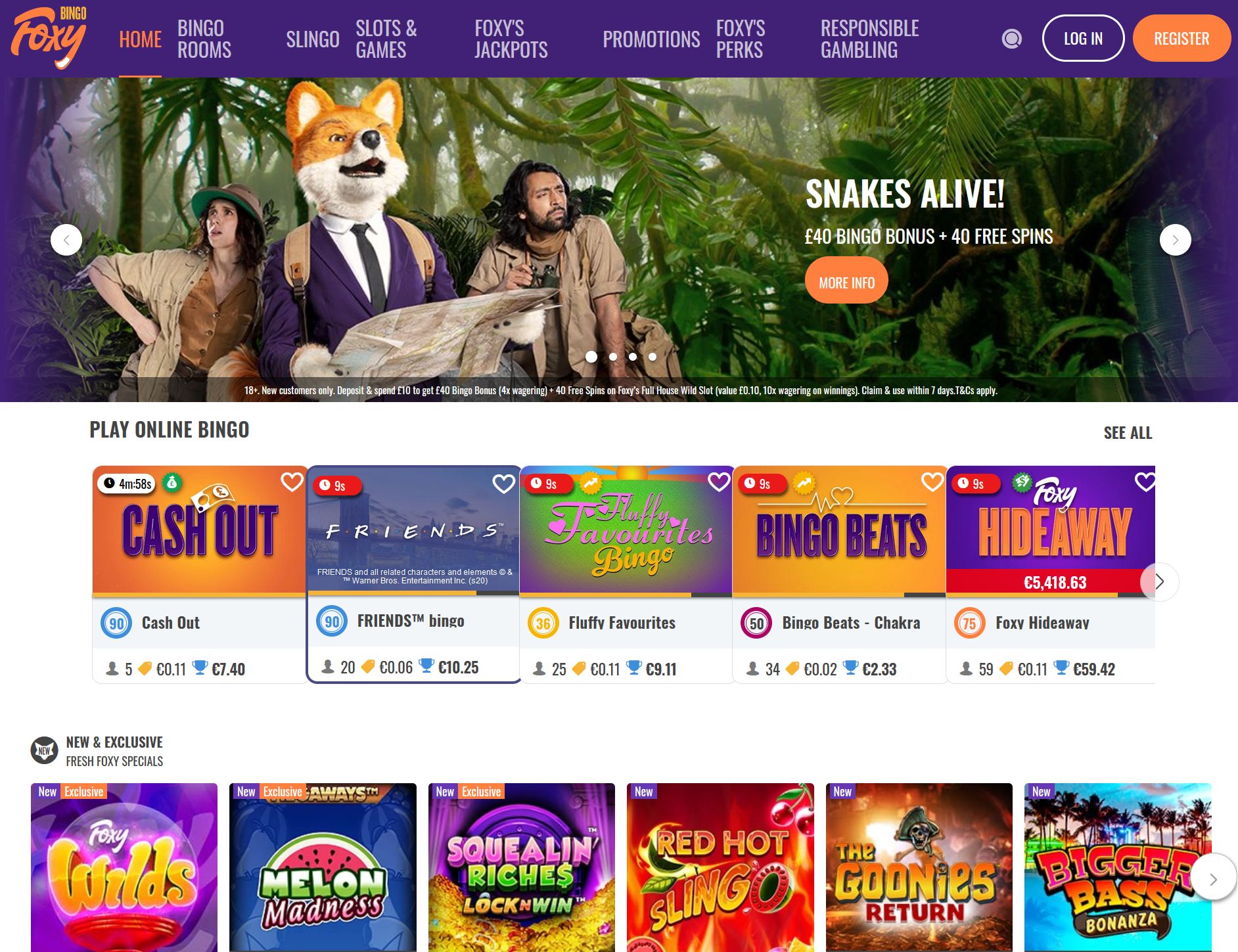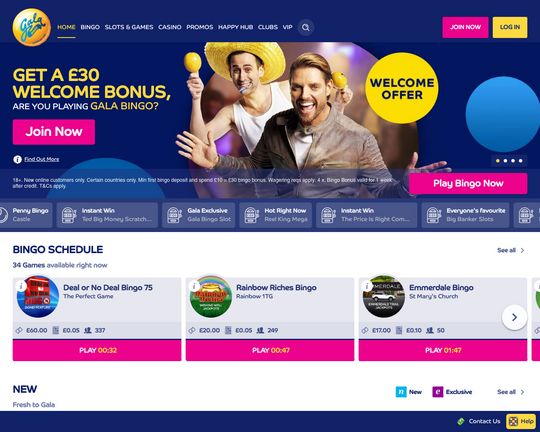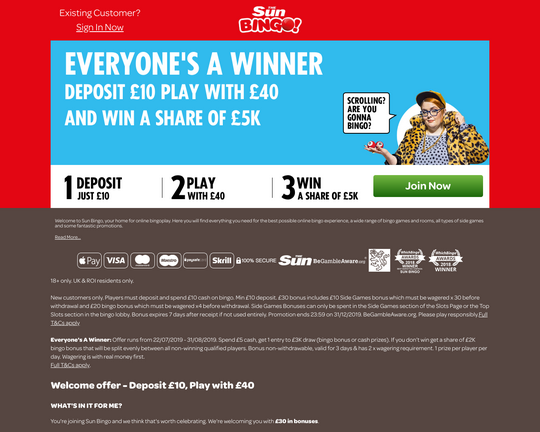 Online Bingo
Playing bingo is not just an excellent method of unwinding, but also a fun way to socialise with friends while keeping the hopes of winning money alive. With the level of self-satisfaction which comes with playing this game, not to mention its extensive slang vocabulary and the social aspect, we can say that bingo is more than just a game of chance. However, not every bingo enthusiast can afford to hop from one bingo hall to another, any time they feel like playing the game. It is for this reason that the online version of the game is now more popular than ever. With online bingo, you actually have the opportunity to enjoy unlimited gameplay, while interacting with an inviting bingo community. Over the years, many bingo sites have been opened to offer great gaming features, including bonuses and promotions, and no one would dare cast aspersions on the quality of these sites.
Bingo Terms
Chance, Possible, Down, Set, Cased, Waiting, and Ready, are just but a few terms in bingo parlance. As a player, you will be said to have a Chance or be Down, Set, Cased, Waiting, or Ready when you require one number to complete a pattern. While Jumping the Gun is the player who calls bingo before they can have a valid win. Wild numbers allow you to start with more than one called number. If you need the minimum amount of balls to complete a pattern, you'll be allowed to 'break the bubble.'
Although you may not be obliged to know all the terms used in bingo, understanding the commonly used words, such as those mentioned above, will definitely make things easier for you when playing the game. This ensures you don't miss a thing.
How to Play Bingo: Basic Rules of Online Bingo
Online bingo has relatively straightforward rules. You will be required to choose the bingo variation which you want to play; after this, a corresponding virtual card will be dealt to you. Although different bingo games may have slightly varied rules, the basics are the same. Online bingo cards are typically in the form of grids, and they feature a series of numbers, which are marked in lines and rows. During the game, the caller draws numbers randomly, as you mark them off on your cards. You will need to be on red alert just to ensure you don't miss a call, and you should be fast, to keep up with the caller's speed. Most bingo sites have an auto-dab feature, which players can use so that they don't miss calls. Depending on the bingo variant of your choice, you will be required to mark off one or more lines, or a full house (all your numbers), to win the game.
How to Win at Online Bingo
While there are people who will argue that there is no way a player can give themselves the edge in bingo, because it is a game of chance, there are specific steps you can take, to ensure you have a better chance of bagging the cash or at least have more fun playing the game.
Play at a reputable bingo website
: By a legitimate site, we mean one which is licensed and regulated by the gaming authorities in the UK and has been certified as safe and secure.
Buy multiple cards
: Bingo is literally a game of numbers, and the more cards you buy, the higher the chances of winning and vice versa. However, you must ensure that you stay within your means.
Proper timing
: If you're playing the game with, say, 100 other players who are competing for the same prize, then your chances of winning are slim. As stated above, bingo revolves around numbers, so you're more poised to win when playing with fewer people, than otherwise. Since most people will want to unwind after work, bingo is mostly played from late evening to bedtime. You will want to avoid playing at this time to better your odds.
Play on a budget
: Setting a limit is a helpful tactic when it comes to gambling, and it pays to understand that bingo, like any other casino game, is a game of rare wins and frequent losses. So, instead of chasing losses, let them slide and focus on the fun bit of the game. This is undoubtedly a simple tip, but it is probably the most important of them all.
Online Bingo Games
While the basics remain the same across the majority of bingo games, there are individual variations, which players should understand, to distinguish one bingo style from another. The most popular variants include 90-ball bingo, 80-ball bingo, 75-ball bingo, and 30-ball bingo, which is a reasonably new chick on the block.
75-ball bingo
: A players' favourite in Canada and the United States, no online bingo hall would be complete without this variant, which is played on a 5x5 card. During the game, the caller will call out all the numbers from 1 to 75 until a winning pattern comes up. 75-ball bingo boasts various different winning patterns, with coverall, diamond, diagonal, vertical, and horizontal being the most popular ones. The fact that the patterns keep on changing perhaps makes this game more fun and fascinating.
80-ball bingo
: Played on a unique 4x4 card, this game has winning patterns similar to those of 75-ball bingo. Thanks to the unique design of its grid, the game has other winning patterns which other bingo variants don't have. For instance, corner bingo is one of the winning patterns in this game.
90-ball bingo
: While 75-ball bingo is popular in North America, its 90-ball counterpart rules the online market throughout Europe and Australia. 90-ball bingo is played on a 5x5 grid, and each strip here has numbers 1 to 90. During the game, the caller will say each number once, giving you the chance to stamp your card each time your number is called out. With the cards being so abundant in this game, you will buy them at a lower cost, which makes it possible for bingo enthusiasts to play even with pennies. The game presents three ways to win, which are a full house, two lines, or a single horizontal line. Each line has its own prize, with the full house having the highest value. In case there are multiple winners in a particular game, the winnings are split among them all.
30-ball bingo
: Since it is played with just 30 balls, this bingo version is fast-paced in nature, (no wonder it is known as speed bingo), but has a lot of fun. The cost of cards here is relatively low, which makes the game an excellent choice for newbies who are out to get to grips with the routine. Although it is the newest arrival on the scene, 30-ball bingo is already earning plaudits from millions of players around the world, and you should not be hard-pressed to find a bingo site where you can play the game.
Play Bingo with More Players
By its very nature, bingo is a social game, and it has been that way even before the internet came around. While playing bingo, you have the chance to make friends by joining a chat room, and it is this social aspect which makes bingo a favourite for many gamblers. Since online bingo brings together people from different walks of life, (but with a common interest), the game presents an excellent opportunity to socialise with other players without jeopardising the play in any way. Through this socialisation, players can learn a lot from one other, which helps to improve their gaming skills. Better yet, is the fact that you will have a diverse group of friends courtesy of these chats. While chat can be tricky, especially at first thanks to bingo slang, the players are usually very friendly, and you won't take long to pick up the lingo.
No Deposit Bingo
Free play scenarios are great for players who are looking to test the brand or software. Playing bingo for free online takes away the risk while maintaining fun. That's why there are many bingo sites which offer players a no-deposit welcome package, to help players gain confidence in their brand before they require them to make a deposit.
Bingo with Jackpots
A jackpot is a massive prize which operators use to attract players, and yes, winning a jackpot playing bingo is real. Jackpots associated with online bingo are of different kinds. The most common ones include:
Progressive jackpot
: The prize keeps on increasing as long as it is not claimed, and it is reset once someone wins it.
Fixed jackpot
: It is awarded in every game irrespective of the number of times it is won.
Community jackpot
: The prize is shared among all players who were in action at the time it was won.
Bingo Sites in the UK
Looking for where to play online bingo in the UK? There are multiple UK-licensed bingo sites dedicated to offering the best possible gaming experience to millions of UK players. While every site may have its own strengths and weaknesses, some of the best bingo sites which operate in the country include:
MrQ Bingo
Mecca Bingo
William Hill Bingo
Sun Bingo
Dream Bingo
City Bingo
Silk Bingo
Yay Bingo
Wink Bingo
Robin Hood Bingo
Blighty Bingo
Sundae Bingo
Fabulous Bingo
Sing Bingo
Bingo Diamond
Bingo Street
Bingo Halls in the UK
Over the last two decades, bingo halls have had it tough due to the online gambling revolution. These bricks-and-mortar gaming venues have also been struck by certain economic factors. Before awarding them a tax cut in 2014, George Osborne, (the Chancellor of the Exchequer then), noted that the number of these establishments had dwindled by almost 75% in the last three decades. This welcome move initiated a dramatic U-turn in the UK's bingo halls, which are now moving from strength to strength as they attract millions of players. The industry also seems to have successfully managed to correct the perception that bingo halls are a thing for elderly players by enticing millennials from the comfort of the digital age. Due to these developments, the UK has managed to reclaim the glory of the once-popular bingo halls, and the country is now awash with a chain of famous halls once again. Presented here are some of the top halls in the country:
Bootle Castle Bingo Club, England
Cosmo Bingo Hall, England
Gala Bingo Hall, Scotland
The London Palace, England
The Apollo Bingo Club, Wales
Mecca Mayfair, England
Riva Bingo, Scotland
Castle Bingo Club, England
Beacon Bingo Hall, England